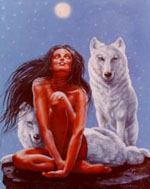 Lesbians like to look down on unenlightened lesbians and tell them how unenlightened they are. Unenlightened lesbians want silly things like same-sex marriage, the right to adopt children and the option to serve openly in the military. In other words, unenlightened lesbians want to live their lives among the rest of society without being harassed, and this makes enlightened lesbians froth at the mouth with anger.
Enlightened lesbians are disappointed that unenlightened lesbians don't understand that supporting things like same-sex marriage is unenlightened. For example, when an unenlightened lesbian voices her support of full marriage rights, an enlightened lesbian will become very upset, shake her fist, and attempt to put the unenlightened lesbian in her place. To highlight the gravity of the unenlightened lesbian's most grievous faux pas, the enlightened lesbian will use one or more of the following big words to scare the unenlightened lesbian: "heteronormative," "patriarchy," "institutionalize," or "assimilationist." See, the enlightened lesbian read a lot of books in grad school and learned to regurgitate these big words verbatim, and therefore, she is more enlightened than other lesbians.
When an unenlightened lesbian responds that she just wants to be able to do things like visit her partner at the hospital if her partner is sick and to have her kids treated like human beings instead of society's outcasts, the enlightened lesbian's face will turn red and she will declare that such rights aren't the point. It is the principle that matters! The enlightened lesbian will explain that, hundreds of years ago, marriage was an institution whereby a woman was given to a man to possess, and consequently, marriage is a "patriarchal" institution that any self-respecting lesbian must reject.
If the unenlightened lesbian wants to avoid looking like a simpleton, she should simply nod her head and agree.
The truly unenlightened lesbian, however, instead of accepting the enlightened lesbian's explanation as gospel, will then foolhardily ask whether the woman-as-property framework still applies in 2008 in the United States. This is a no-no. Such an ignorant comment will cause the enlightened lesbian to launch into a furious tirade.
Lesbians are a different breed! Lesbians are not like everyone else! Lesbians are supposed to live in the hills and run with tigers and wolves! Marriage was created by the straight world, and all institutions created by the straight world are inherently oppressive and must be smashed!
The unenlightened lesbian becomes very confused. After all, rugby and golf were probably invented by straight people, and lesbians love to play rugby and golf. Beer was probably invented by straight people, and lesbians love beer. (And as to marriage, matrimony is one of the seven sacraments of Catholicism, but no one really believes that all those men in the Vatican who enforce that sacrament are really straight!)
The enlightened lesbian then makes one final effort to discern whether the unenlightened lesbian is a lost cause or if there is a glimmer of hope that she isn't the wrong kind of lesbian. The enlightened lesbian will lean in slyly, wink knowingly and whisper, "I know what you're up to! You want to 'subvert' the institution from the inside! How 'transgressive!' I knew you were a secret radical!" The unenlightened lesbian, however, has no clue as to what the enlightened lesbian is talking about and states simply, "What's so bad about marriage? My sister is straight, and she isn't out to oppress me. She's married to a wonderful man, and they seem to be doing fine. What is there to tear down, and why are you so angry?"
At this point, the enlightened lesbian is so frustrated by the unenlightened lesbian's willful ignorance that she screams, "Feh!" and runs off to have enlightened conversations with her enlightened friends far away from the unwashed masses of unenlightened lesbians.
The unenlightened lesbian then throws her hands up in defeat. The unenlightened lesbian sighs and realizes that she must simply just accept the fact that she is unenlightened. The unenlightened lesbian, being simple and somewhat dim, took the wrong types of classes, like multivariable calculus and organic chemistry, so she isn't educated enough to desire what enlightened lesbians desire and to understand why lesbians aren't essentially the same as everyone else. Unenlightened lesbians aren't enlightened enough to be satisfied with living in the hills and running with tigers and wolves in a land far, far away from the rest of the world — because, you see, unenlightened lesbians are so unenlightened that they want the world.