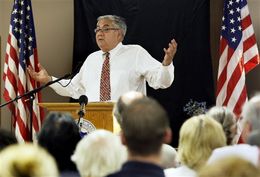 The announcement of Obama's proposed health care plan has caused an extraordinary number of citizens to come forward and put their untreated mental illness on display for all to see. The latest desperate measure by lunatic fringe of the right is comparing Obama's administration to the Third Reich. (These people obviously did poorly on the analogy section of the SAT, and I guess that is why they are outside protesting during daylight hours instead of going to school or working.)
At a town hall meeting discussing Obama's health care plan, Barney Frank finally lays into one of these crazies, and it is brilliant. When asked by a woman why he supported Obama's proposed health plan, which she labeled a "Nazi policy," Congressman Barney Frank – who is both gay and Jewish – responds, "On what planet do you spend most of your time?" The rest of the clip is just priceless.
Hat tip, Bilerico Project.
Two trending topics on Twitter are "Under ObamaCare" and #obamacarefacts. There are two types of contributors to this trend: (1) Rush Limbaugh and Glenn Beck followers, who are afraid that universal health care will bring about the invasion of Poland, and (2) people who spend most of their time on this planet. People who fall into the first category spew general insanity, and people who fall into the second category write absurd responses to highlight how ridiculous and reactionary the Limbaughs and the Becks of this world are. Currently, the reality based community is winning.
Here are my contributions:
And of course…
So what do you think about the sheer batshittery that is coming out of the mouths of the Limbaugh/Beck crowd? I think they must have been born with their intestines inverted, because some very fetid fecal matter is coming out of the wrong end.