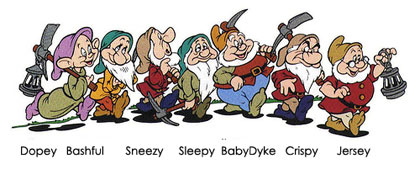 Lesbians like inflicting stupid nicknames upon other lesbians. In The Outsiders some of the characters were known only by whimsical nicknames such as Pony Boy, Sodapop and Two-bit. But lesbians nicknames are less like the fanciful nicknames in The Outsiders and more like the names given to the Seven Dwarves. The sleepy dwarf is the sleepy one. Sneezy is the one who always sneezes. Likewise, the girl nicknamed "Shorty" will be short. The girl nicknamed "Tiny" will be tiny. The girl named "Jersey" will be from New Jersey. Clearly, lesbians are a creative bunch.
Sometimes, they are so creative that they won't even bother thinking up a descriptive nickname and will simply refer to other lesbians by their last names. (Perhaps this practice arises out of playing team sports, where one's last name is emblazoned on one's uniform, and no one on the team bothers to learn their teammates' first names. But since my idea of playing team sports is playing Wii, this is not my area of expertise, so I could be wrong.)
Lesbian nicknames are difficult to shake. Once you've been tagged with a nickname, expect to keep it for a very long time. Even after Jersey moves to Brooklyn, shacks up with wifey and adopts a family of cats, she will still be known as Jersey. Even if Tiny gains 200 pounds and takes up sumo wrestling, she will still be Tiny. Shorty is just screwed, because she'll always be short, although it hardly matters, because even if she has a growth spurt at age 25, she'll still be Shorty.
If a lesbian is new to the lesbian scene, she will be tagged with a name like "BabyDyke," which will stick with her even after her sixth girlfriend, second request for a restraining order against girlfriend #3, and after she changes her cell phone number to avoid girlfriend #5′s mother who still calls her just to chat.
When a new lesbian arrives at college and comes out to a few select older students, members of the older crowd may take her under their wings and start calling her "The Adopted Freshman." The Adopted Freshman will be The Adopted Freshman even after she graduates from college and goes to medical school. After the Adopted Freshman performs a triple bypass forty years later on one of the people who nicknamed her the Adopted Freshman, the patient will wake up from general anesthesia and slur… "Thankth, Adopted Frezzzhhman!"
As you can see, most lesbian nicknames are unimaginative. Even the initially interesting ones turn out to be merely descriptive after inquiring about the back story. And sometimes, you will wish you bit your tongue and never asked. Take, for example, a girl named "Crispy."
[Scene: Five years ago in a bar in the West Village.]
"Is 'Crispy' her real name?" I asked her girlfriend.
"No."
"Why is she named 'Crispy'?"
"Because she tastes like corn chips."
Trust me, I did not make this one up. (A side note: At this point it should be noted that even if your nickname started out as a private pet name given to you by your girlfriend, eventually your entourage will find out about it, and they may start calling you by that name.)
Woe is the lesbian who is nicknamed Sauerkraut, Limburger, Kimchi, or Gefilte. Come to think of it, I do know a lesbian who goes by the nickname "Gefilte," and now I am thoroughly disturbed that I went down this route, and I want the last two minutes of my life back.
Because of the permanent nature of lesbian nicknames, you can stay friends with a lesbian for years without knowing her real name. One day you may receive an invitation to the commitment ceremony of Millicent and Olivia. You will have no idea who the hell Millicent and Olivia are. And then you show up and discover that Crispy and Shorty are getting married; BabyDyke, Tiny, and The Adopted Freshman are in the wedding party; and Jersey is on the turntables giving nasty looks to hecklers, who are telling her to play Bon Jovi.
Lesbians are both embarrassed and proud of their nicknames. If you come across a lesbian who introduces herself or is introduced by a name that you know wasn't on her birth certificate, play along and pretend that it is her real name, even if you know the unappetizing back story. Or you can pretend that she is the lost child of Frank Zappa.
[Readers! As Yip suggested below, please divulge in the comments the "most ridunkulous" lesbian nickname you have come across. If you are reading via an RSS reader and think you're off the hook, I know you get a link to the comments, because I added the feature, so you have no excuse. Don't be shy. Participate!]