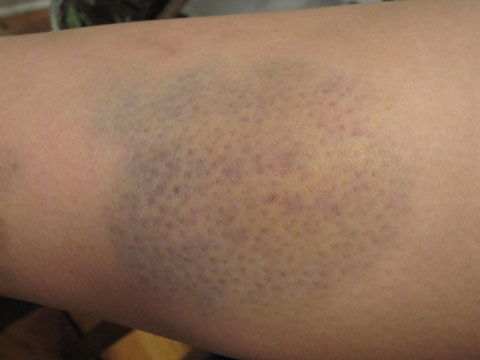 This is a pic of my leg. It is nowhere near being the Nastiest Sports Injury EVAR, but I thought it was cool looking. Check out the pattern of the bruise. See it? No? How about if I told you that it was raining/sleeting/hailing during our game and I was freezing my ass off? Oh yes. Goose bumps. AWESOME.
Of course, whenever someone gets nicked on the field, my teammates like to console each other by saying "Shake it off. At least you didn't…."
"…tear your ACL. Again."
"…get hit in the face with a throw that knocked out your tooth which ended up getting embedded in the inside of your cheek. I still have a scar inside my mouth, wanna see?!"
"… break your nose. Blooooooody."
"… dislocate/break your foot – mine was completely turned in the wrong direction."
Winner of this impromptu game of Nastiest Sports Injury EVAR went to one of our goalies, who was back in action after some time off: "Yeah, I had to take two years off because the last time I played, a girl who was shooting on me ended up cracking my helmet with her stick. Seriously, CRACKED my helmet. I ended up with a really bad concussion. So yeah, I've been out for two years."
That's pretty nasty.
I'm sure you have nastier. Tell us your nastiest, goriest sports injury. Got pictures? Post a link below or notify me on Twitter @Yiponthespot. The Nastiest Sports Injury EVAR wins a prize!
(Editor's note: Yip tells me that she will actually give you a prize, most likely some sort of athletic gear. No, not her used mouth guard. So, get on it!)