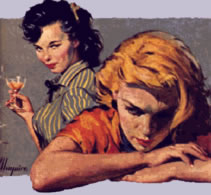 Lesbians like to be friends with their exes. When straight people say, "Let's be friends," it could mean a variety of things. Sometimes it means, "This is a nice way of saying that I never want to see you again," or even, "Please die in a fire. Thanks." Most of time time, however, it means, "I want to have sex with you without the drama of a bad relationship." But for lesbians, "Let's be friends" means, "I want the drama of a bad relationship without the sex."
Lesbians will selectively forget about things like Google and Wikipedia just so they can contact their exes to ask them stupid questions, hoping that the pretext for getting much-needed advice will lead to further discussions that reveal juicy details about their exes' lives.
Lesbians will fabricate charitable reasons for keeping in touch with their exes. Take, for example, the following reason: "I want to make sure she is doing okay."
Translation: "I want to check in on her every so often to see if she ends up with an unemployed drug-abusing psychopath, so I can experience the much-deserved feeling of schadenfreude."
Even if you know the latter reason is lurking behind her (ostensibly sincere) stated reason, just nod your head and tell her what a thoughtful person she is and tell her how wonderful she is for taking the high road.
If, however, her ex DOES end up with an unemployed drug-abusing psychopath, her euphoria will quickly and suddenly morph into angst and confusion. "She chose that low-life over me?! Why?! Why am I not good enough?" At this point, you should give your friend a hug and say, "On the contrary, you were too good for her," or "She hasn't reached the stage of life that you have reached." None of these statements will actually make her feel better, but you should say them anyway. Your consolations may help derail the positive feedback loop of anger and self-doubt that would otherwise result in an explosion of inappropriate behavior, such as threatening her ex on Livejournal or Facebook, which, as stated earlier, will be read by all the lesbians in her network and be treated as entertainment.
Why would anyone willingly place herself in a situation that is clearly against her interests, you ask. Isn't the easiest way of dealing with a breakup simply to walk away, block her ex on Facebook and move on?
As stated previously, lesbians like drama. Like modern day Houdinis, lesbians will purposely place themselves in a difficult situation just so they can wriggle out of it. However, solving a problem is a double-edged sword, because although the feeling that lesbians get when they solve a problem is quite exhilarating, once a problem is solved, the problem has disappeared, and lesbians must create a new problem to replace it! Thus, the perfect situation for a lesbian is a complex and long term problem that can only be solved through years of negotiations.
The first step after a lesbian breakup is "defining the friendship." Defining the concept of "friendship" is an easy thing to do for everyone, except for lesbians. Do not be surprised if the discussion descends into Clintonian territory:
"What does 'friendship' mean to you?"
"It depends on what 'mean' means."
This is perfectly normal. If you run across a recently broken up couple outside of the bar having such a discussion, don't laugh. This is serious stuff!
After several sessions of negotiating the meaning of "friendship," the exes will then move on to discuss proper behavior within the newly defined metes and bounds of their "friendship." Eventually, one of the exes will cross the line, and then they will have to renegotiate and redefine the appropriate boundaries of their "friendship." Such negotiations can last months or years and will only end when both parties have found new girlfriends.
Another, more practical reason for staying friends with your ex is that, no matter how you try to avoid her, you will inevitably run into her out on the town, because even if you are in London, New York or L.A., there will only be three places on any given night that cater to lesbians. For every subsequent day you randomly enter one of the few available establishments, the probability of running into her approaches one. Think of it as a game of Lesbian Russian Roulette. So, being friends with your ex is not only a sport, it is a survival skill.
Finally, lesbians may have to stay friends for the sake of the cats. After all, you don't want little Bootsy and Kiki on kitty Prozac, do you?