We have a new feature at Grace the Spot – surveys! Every week or so, we will introduce a new survey in which we will ask highly important questions affecting queer women. The survey is located in the sidebar on the right. (Yes, this means all you people following this blog via RSS readers or e-mail will have a reason to click back to the front page of the site. These are, after all, incredibly pressing questions!)
Earlier, Rosen asked what Dykes and the City noted was the most important question in the world – which 5 celebrities would you most like to have an affair with? The comment section of her post revealed that many lesbians have (not so) secret crushes on celebrity chefs, which isn't that surprising, because as we noted before, lesbians also like food. Great food + attractive women = Lesbian Nirvana.
So this observation has led to the inaugural Grace the Spot survey question, which should be of interest to all lesbians: Which Food Channel chef is your lover? Take a trip to the survey and get your voices heard! Straight men, bi women, and adventurous straight women are encouraged to vote too!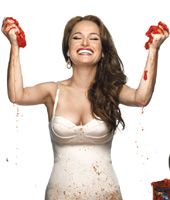 Giada Di Laurentiis
(Note: Those are tomatoes, not fetuses or dead kittens. Don't be disturbed.)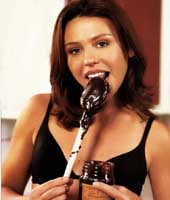 Rachael Ray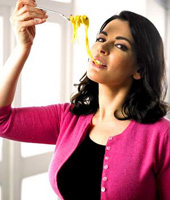 Nigella Lawson
Cat Cora
(Bonus! She's a real lesbian!)
Don't delay! Go to the sidebar on the right and vote! (And it's totally kosher for Passover!)