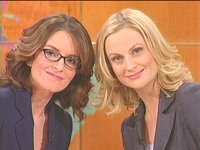 Lesbians like straight girls. Lesbians like straight girls, because lesbians think that everyone is a little bit gay and that, with the right amount of coaxing, straight girls can be convinced that they are not so straight. (Even if this were true, lesbians are forgetting a very important principle: even if a majority of women can be convinced to abandon heterosexuality, at least temporarily, this does not mean a particular woman will stray from heterosexuality for you personally.)
I see many of you staring at this proclamation with disbelief. This is because lesbians believe that, like the Little Engine that Could, if they say "I think I can" long enough, they can will that certain straight girl into realizing that she has lesbian tendencies.
After all [pick your poison]:
1) She has been brainwashed by the "dominant discourse on sexuality" her entire life, and this is the only reason she identifies as straight! It is my duty to enlighten her.
2) How can she deal with Chip/Mitch/Tyrone/Jae/Jose? His tongue is so slow that it takes him five syllables to articulate the word "dude," i.e. "Du-u-u-u-ude!" She's probably never had an orgasm. If I don't step in and rectify this wrong, she will be doomed to a life of sexual frustration.
3) She just hasn't met the right woman. I am that woman.
Here's a novel concept: Some girls are just straight. Period.
Every lesbian has had at least one hopeless straight girl crush. Maybe it was your lab partner, your sorority sister, your dormmate in boarding school, your classmate in your Catholic high school, your tennis coach, your best friend, your teammate on the lacrosse/rugby/soccer/softball/field hockey team. (Did I miss one?) Every time she spoke to you, you pored over every word, every blink of her eye, every minor hand movement, because any deviation from her normal behavior (which you have memorized to the most insignificant detail) could be a secret signal that she has received your telekinetic messages of devotion.
Crush: Hey, what's up?
Lesbian:
Thinking: Oh my god. She never says, 'What's up?' She always says 'Heeeeeyy!' There must be something going on. Is she flirting with me?
Says: Um, hi?
Crush: What's wrong? Why are your ears turning red?
Lesbian:
Thinking: Shit! Shit! Shit! She knows I'm blushing.
Says: Oh, I have allergies.
Crush: Oh, no! I hope you feel better. [Gives lesbian a hug.]
Lesbian:
Thinking: *Swoon!* She doesn't care that I'm blushing. She likes me!
Says: Heh heh. Um. Thanks.
Crush: I know what will make you feel better! My boyfriend and I are going out to drinks tonight. You should come!
Lesbian:
Thinking: …
Says: …
This is not to say that no straight girl can be convinced to take a walk on the other side of the fence. However a general rule of thumb is that affairs with straight girls do not end well. Having an affair with a straight girl ends in one of three ways:
Everything is going splendidly. You believe that you and she are soulmates. You're like Ellen and Portia! Rosie and Kelly! Timmy and Lassie! Cheech and Chong! Then one day she announces, "Hey, my boyfriend and I got back together! Isn't that great?" You say, "Wait! What about me? What about us!" She laughs and says, "Huh? Silly, I'm not gay! But that was fun!" thereby crushing your soul.
You come to your senses before #1 happens and break it off. This makes her angry and stalkerish. How dare you cut short her experimental stage before it was completed! You bitch! She keeps calling and hanging up. You call her and tell her to seek a therapist. She then has an epiphany and believes that if she says the following, she will somehow win you back: "You were a huge mistake! I'm going back to my boyfriend!" You say, "Good! Problem solved!" In retaliation, she makes a point to make out with her boyfriend in front of you, but she also leaves weird love letters in your email inbox under a fake name. She continues to stalk you on e-mail/IM/Facebook until you threaten to send your entourage, your friends Vinnie and Tony from Jersey, and/or the cops after her.
She realizes that she is gay, that you're the one, and she rides away into the sunset with you.
Just kidding. #3 never happens.
Nowadays, many lesbians have abandoned (or never even adopt) stereotypical dress and mannerisms and blend into the rest of the population, so ascertaining who is straight and who is gay is getting more difficult. This phenomenon has led to the following solution: Everyone is fair game! However, even if there is a room full of gay women and one straight girl, and it isn't obvious who the straight girl is, the straight girl will still get the most attention. So, straight girl readers: if you go to an event attended by a lot of lesbians or if you accompany your lesbian friend to a lesbian bar and you notice that a lot of lesbians are smiling at you, do not be alarmed. If this is happening, it should just reaffirm your heterosexuality.