Yesterday I asked the Graces to write about their favorite pair of shoes – with one limitation: they weren't allowed to talk about Converses, because with this crowd, this post would have been ended up being a sea of Chucks. Despite being aware of this limitation, a couple of Graces attempted to sneak in in Jack Purcells, even though they are a Converse product. Shame!
Why shoes? Because the bag post by Grace Downunder is nearing 30 comments, so the next logical step is talking about shoes.
I noticed a couple of trends, however. Every Grace who thinks it's normal to spell "favorite" with an extra "u" shied away from sneakers. A little German birdie once told me that wearing athletic shoes in public is a unique and distasteful American phenomenon. In fact, the original question for this group post was, "What are your favorite pair of sneakers?" Grace Downunder, our Australian correspondent, responded immediately, informing me politely that she does not wear sneakers unless she is working out. She then signed off with "LesbianFAIL!" Our Scottish and Canadian Graces were also sneaker-phobic.
Second, the Midwestern Graces are all about semi-obscure sensible shoe brands. What the hell are "Clarks"? I don't think we have those in New York, and even if we did, we wouldn't wear them. The same goes for "Ecco" and "Frye."
So, here we go!
Grace Maxwell
What's the big whoop with Converses? Perhaps I'll never understand.
My favourite shoes: small black open toed heels with stitched-in silver sequin bows. I bought them in a dusty shoe store from an enthusiastic Aunty. They are my favourite because they are comfortable, plus they look great with jeans and dresses, adding a bit of class to any outfit. The only thing is, I need to make sure my footsies are nicely pedicured before I wear them. For everyone's sake.
Grace Downunder
My favorite shoes are leopard print ballet flats.
I adore them because they make me feel like a rockstar even when I know I am about the furtherest thing from being one. They've lived with me overseas, they're really well made so they've lasted amazingly well and they are unfailingly nice to wear. They go with everything, can be formal or casual and the soles are rigid with a tiny heel so it makes a satisfying click when I walk so I feel important too.
One fateful night in Tokyo after many cocktails I was walking on the wet pavement outside my local grocery store and the slick, smooth soles of these shoes had my on my ass. I managed to throw my handbag down with me, smacking it so the camera inside took pictures with a thin red line through then from now on. Despite this incident, they remain in the good books. Cameras can be replaced, great leopard print flats cannot.
Grace O'Neill
Yes, Converse would have been my first choice. Guilty

But if I can't choose them then I have two choices: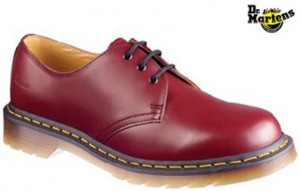 1. Red Classic Low Top Doc Martens – My current work shoes. I've owned the same pair for the 15 years and they still look great. Yes folks, I've been rocking this stereotype since I was I was 12 years old!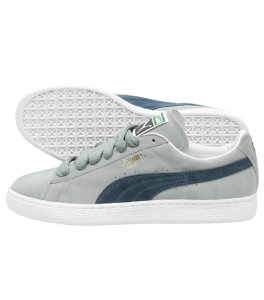 2. Classic Suede Pumas – These are my "if I can't wear converse" sneakers. They are comfortable and come in every color combo imaginable!
Grace Rooney
I am also a Converse girl.  Jack Purcells are my second favorite pair of sneakers but they are also a Converse product, however when I need to channel my inner Jack McFarland I throw them on.  Third place sneakers Adidas gazelles.  My favorite pair of shoes, right now,  a pair of black biker/cowboy boots that just put me in a kickass (I'll take your name and maybe your number if your lucky) attitude when I slide them on.  Of course they look ridiculous with pj pants so they don't get out as often as they should!
Grace Yip
Okay so when I am home, I am barefoot because YO THIS BE AN AZN HOUSE AND YOU DON'T WALK AROUND WITH SHOES ON IN THE HOUSE.
When I am out and about, it's a mix of Jack Purcells (I know it's Converse, SUCK IT), various Adidas cleats/running shoes, and a pair of Roos for those nights that I need something to stick a $20 in because it's going to be one of THOSE nights.
Werd.
P.S. Oh, and Clarks for work. Clarks are AWESOME.
Grace Abounding
Not a Converse fan over here. Don't get me wrong, I like the look but the lack of support always leaves my feet hurting after about 10 minutes. I'm a total Adidas girl and rarely rock anything else. Since converse lovers get to be specific, I'm going to do the same. My absolute favorite are a pair of Superstar 2.0 that my girl had custom made for my birthday. Green leather on the sides and heel, white stripes and white toe shell. Top it all off with my initials monogrammed on the side, jealous yet?
Grace Underfire
I live for vans, flip flops and any sort of skate shoe. The picture is of my favorite set of black shoes. I would have added my dress shoes, but they go better with a gin and tonic v. beer. They make me look like a 65 year old retired theater teacher, but they are awesome.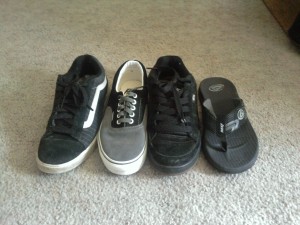 My shoe ranking
1. Flip flops (prefer Quicksilver, Rainbow, and Reef)
2. Vans (any shade, but I prefer black)
3. Ecco and Clarks (see! I told you!)
Grace Fox
My favorite shoes right now are these.
My girlfriend would tell you that I only wear them when conditions are just right…like mild temperatures, full sun, no clouds in the sky, no water on the ground, no possible chance of rain or snow flurries. That's kinda true but it's only because I love them so much I want to keep them safe from the elements. These boots make me feel powerful, like I could kick some ass if necessary and, as a mom, I really need to feel like a badass once in awhile. Here's another little tip: if you plan to have kids in the near future, start buying expensive shoes now. Seriously – right now! Kids cut into your shoe budget because they need shoes too. If you show up at your kid's school in expensive shoes and your kid is wearing shoes made out of duct tape and paper bags, people will judge.
Grace Underpressure
Imma break the mold here!
I'm a girly girl–I think I own one pair of Converse and they have rainbow laces and are my token 'gay shoes' that I can wear when I want to make it obvious that, hey, I like the ladies. I don't even KNOW if I own running shoes–I must, if only to work out.
On a day to day basis?
I wear flats, and if they're not flats they're high heels.
My current favourites are these: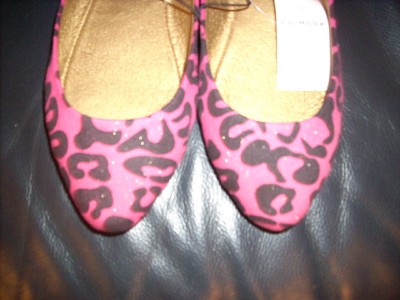 Hot pink leopard print ballet flats. They're super cute, go really well with leggings and a skirt.. or with just about anything because seriously, wtf is better then that? They're awesome to wear with jeans and a cute top.
I am currently wearing a pair of gold ballet flats with a super-cute buckle across the toe.
I will one day wear:
And when I do get my greedy little hands on them, I am never ever ever going to let go of them. Ever.
I also own a pair of shoes that I fondly call my 'Apocalypse Boots', that is to say, if there WERE an apocalypse, I would want to be wearing them. They're flat-sole motorcycle-style calf-high lace up (Though there' a zipper for easy access) black boots. Hella comfy, light but insulated (wore 'em all winter, yup), and most importantly: they look like something some badass zombie-killing hot chick with a machete and a few guns in a thigh holster would wear. Which you can be very certain is what I want to be when the dead walk.
And for the record…
Photographic evidence of an addiction!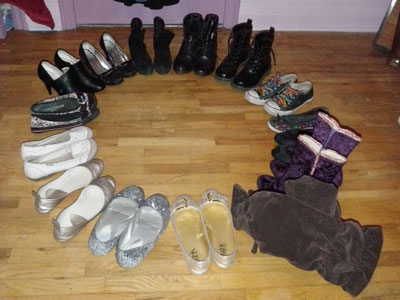 The group shot is about half the shoes I have–not counting flip flops, assorted sandals, summer-y wear that has yet to be bought, or anything that got left at my mother's for safe-keeping during the school year.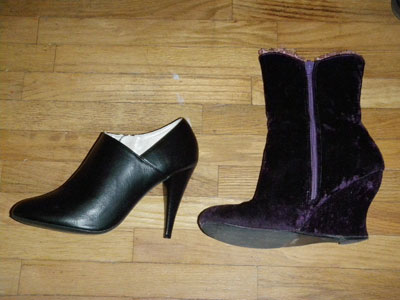 The comparison shot is of two pair of my favourite heels, one is a four inch stiletto bootie, patent leather zip-up, and the other is a plum velvet calf-high boot with a chopine heel and pink ruffle detailing. (It matches a super cute hat I have, so sue me)
And now, my shame is revealed!
Grace Chu
I have five crates of shoes, but you don't want to hear about all of them. This is hard. Choosing your favorite pair of shoes is like choosing your favorite child. But I've whittled the five crates down to five pairs, because this post has already become a dissertation.

From left to right:
1) High heeled black boots. Everyone in New York has at least three pairs. These happen to be my favorite. I got them 14 years ago from Guess and they are indestructible. I keep getting them repaired, resoled, and reshined. They don't make 'em like these anymore.
2) Striipe sneakers. Striipe is a brand from Denmark. You can't get these in the United States, only in Europe. Now you can't even bring them back to the United States because no flights are going to and from Europe due to the volcano. It makes me feel special.
3) Gold flats. They are cute and comfortable, and even though they are gold, they somehow work with everything from jeans to skirts to dresses.
4) Diesel stilettos. They have a unique shape, and if anyone messes with you, you can use the heel as a weapon by taking them off and stabbing the punk in the eye.
5) Dark red pumps. They match my most often carried bag. It makes me look like I thought about my outfit, when in fact it's just coincidental that I bought the same color shoes as my usual bag.
So where do you live, and what are your favorite pair of shoes and why?