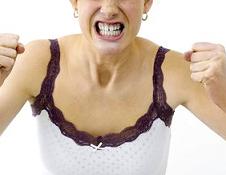 Perhaps because of our tendency to be over-educated, lesbians have an increased sense of political awareness. This lesbian seventh sense (gaydar is the 6th sense, you know) leads to hyper-sensitivity and being judgmental of less "enlightened" persons.
But first things first. When I use the term "lesbian," I am using it to encompass all lesbian, queer, questioning, woman-loving-woman, and non-heterosexually-identified (LQQWLWNH) biological females not including men who may identify as lesbians, female-to-male transgender persons, male-to-female transgender persons, bisexual women, pansexuals, gender-queer individuals who do not identify as lesbian, sporty heterosexual women, and women who only make out with other women when they are drunk as part of a male-attention-seeking endeavor.
In addition, the implicit assumption that Stuff Lesbians Like is stuff that "all" LQQWLWNH women like is not accurate. While Stuff Lesbians Like does make lesbian sub-culture visible, it is not true that all LQQWLWNH women, in fact, like this "stuff." Being written by a mere 4 lesbian-identified women, Stuff Lesbians Like is really a collection of trends noted within our own non-representative communities and exaggerated as though they were true of all LQQWLWNH women.
At the same time, such self-parody can easily be misinterpreted as a serious anthropological examination of lesbian sub-culture in which case the generalizations inherent to Stuff Lesbians Like would render the experience of non-Grace lesbians invisible. It's quite unfortunate, I know. For, in addition to making her overly-sensitive, it's a scientific fact that as one's political awareness increases her sense of humor decreases. Therefore, God/G-d/goddess/SupremeBeing/InfiniteLight/Allah save the unlucky person who cracks a heteronormative, patriarchal, sexist, or racist joke around a lesbian.
Now, where was I? Somewhere in between trying to be funny and hurting my own feelings, I forgot where I was going with this post.