First off, an apology to all of you the loyal GTS readers out there.  My blogging sabbatical lasted a bit longer than I had originally anticipated.
I'm sure inquiring minds would like to know who what I've been doing over the past few weeks that has kept me from my blogging duties. Well, there are a couple normal life factors that can be blamed.  New projects at work, moving apartments, meeting the woman of my dreams…
But truthfully, my absence can be chalked up to two simple words. Gay Sports.
Yup, that's right.  I've been fully immersed within the NYC Gay Sports scene. Softball. Dodgeball. Football… You name it, I play it.  And I'm not the only one.
Sure, everyone and their uncle knows about the NYC party scene.  Snapshot, Proposition, Nation, Eden. Heck, our very own Grace Chu is even brave enough to venture out into it every now and again.  But what most NYC lesbians don't know, is that there's a whole other scene out there that involves a lot less dim lighting and whole lot more interconnectivity and drama.
For those of you (which I think it's safe to say roughly 95% of you GTSers) who aren't familiar with the NYC Gay Sports scene, here's a quick breakdown: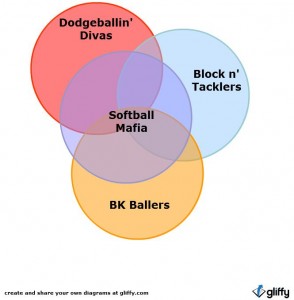 BK BALLERS: Unlike the other leagues , nyc gay basketball takes a certain breed of lesbian. You not only have to be relatively blessed in the height department, but also need to be a frequenter of a little old borough called Brooklyn.
Although I don't play in the league myself (thanks to my need for a nifty robo brace), I do know quite a few girls that do and let's just say they brought a whole new meaning to the term "boxing out".
DODGEBALLIN' DIVAS: There are two types of dodgeballers.  Those that dabble with the sports once or twice a summer when Diva Dodgeball rolls into town and those brave souls who devote their Monday nights (and sometimes early hours of Tuesday mornings) to playing in BAD!
Both require an iron liver and ability to dodge random balls flying at one's face… which trust me, is easier said than done for a lesbian.
BLOCK N' TACKLERS: Formed rather recently, the womens' division of the NYC gay flag football league is truly a melting pot of lesbian representatives from the other leagues.  Softball, Dodgeball, Basketball. And since games are usually on Sat nights, that mean 90% of the league has already been playing a sport for most of the day.
Oh, and don't let the word "flag" fool you… Getting more than physical is required.
SOFTBALL MAFIA: Ladies, this ain't your Mid Western Housewives' softball league. Big Apple Softball league is big, uber gay, and just like any good mafia, comes equipped with established families teams.
Unlike the other leagues, softball requires that people organize their own teams, so naturally most teams are really just a huge lesbian clique in jerseys.  They play together, drink together, and of course sleep together.
In short, most games are like looking at a live version of groups "charts" complete with exes wielding baseball bats!
Although I could go on for hours on the interconnectivity found within the NYC gay sports scene, my real work in calling me.  But I leave you with this… If you ever find yourself growing tired of the NYC party scene and craving to relive your jockish glory days of youth, just remember, if you can call it a sport, then there's a gay league for that