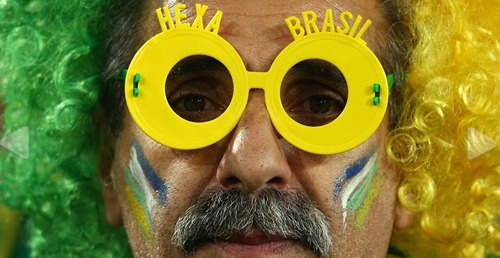 I was a typical American for most of my life, never really knowing or caring much about soccer at all. I had never heard of the World Cup, had never seen a game, had no knowledge of crazy fans with painted faces waving flags and screaming wildly. I was an innocent little sprite, flitting through life oblivious to the fact that most of the soccer-lovin' world loses its collective mind once every four years.
Then, I met my girlfriend.
There are soccer fans and there are Soccer Fans. Most people in the U.S. fall into the first category while the rest of the world falls into the latter. My girlfriend is from Portugal so the World Cup is sacred and that means that I have been swept up in World Cup fever since 1994. I am no longer the innocent sprite I once was – I know stuff now. I know about yellow cards and red cards. I know that the ball they are using in this World Cup was specially designed for games played at high altitude and I know that there are always complaints about the ball. I know that certain players have reputations for diving to garner a foul and how unfairly they are treated by referees and opponents alike as a result (Hello Cristiano Ronaldo!). I know that Groups of Death aren't as ominous as they sound – they aren't rival gangs, simply tough bracket pairings. My girlfriend and I have Portuguese jerseys and our kids have had full Portuguese uniforms since they could walk. We've got the Portugal scarves and flags but, thankfully, no vulvalezzies. More than anything, however, I now know how moods rise and fall like the tides depending upon your team's performance. Let's just say that I'm really glad that Portugal at least tied the Ivory Coast yesterday. A victory would have been better, of course, but we survived to sulk another day.
We are Team Portugal all the way and hoping to make it through to the next round. Of course, Brazil is favored to win the group. Did I mention that my ex is from Brazil? She is and she even dropped off a lovely Brazil World Cup tote bag at our house adorned with six stars. For the innocent among you, each star represents a World Cup Championship. They've only won five but clearly think they will win their sixth this time around.
So, are you watching? What flag are you waving?