Sorry for the lack of content, but for the past few days, several of the Graces, including Grace Fox and Grace Yip, flew in from all over the country to attend the BlogHer conference in NYC, so we spent the last few days attending cocktail parties, panels, beer summits, and brunches. Add in Lesbian Dad, Peaches & Coconuts, Deb on the Rocks and the Autostraddlers, and like the Flintstones said, it was a gay old time. Even Tinkerbell made an appearance!
Tink!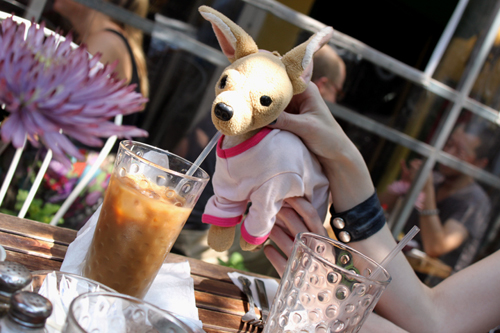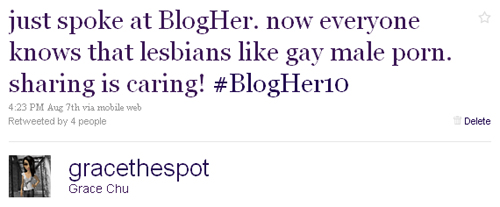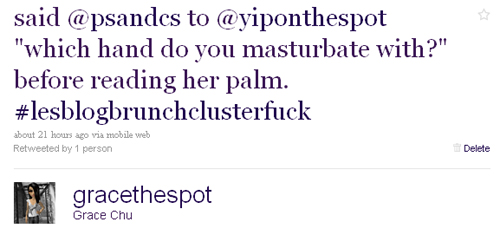 Wow, we represent the community well. High five!
Also, my IRL ("in real life") friends fell out of their mothers' wombs around 30 odd years ago around this time, so I was running around town attending the fêtes of my favorites Leos. Thirdly, if you aren't aware that I've become the NYC nightlife and events reporter for AfterEllen, you do now, and it's a lot of work. This month I'm covering queer events in Brooklyn and Queens, so I'll leave you with the following question:
Based on these (unfinished) photo sets, who parties harder – Brooklyn or Queens?
Link to Check My Grill in Bed Stuy Brooklyn
Link to Zuzies restaurant opening in Astoria, Queens. It shares the same space with Mix Cafe and Lounge. (Remember the post about the real lesbian oil wrestling? Mix will be hosting around round tomorrow.)
(And don't forget to check out the blogs linked above!)