We've all watched porn. The standard made-fer-womyn-by-womyn lezzie porn or perhaps "straightzie" porn for those who don't know any better ("straightzie" porn = "lesbian" porn for straight men starring bored long-nailed stillettoed women with oddly-hued orange skin from tan-in-a-can sporting inflated boobulars that point in wayward directions). Some of you may have been exposed to really fnarked up shizz like alien porn, barnyard animal porn, little people porn, Ron Jeremy porn (eww), Jenna Jameson (ech) and themed porn, like "Pirates."
The aforementioned types of porn can be succinctly described with one of the three following phrases:
Borrrrrrriiiinnnggg. Or fuuuugggggllly. (lezzie porn)
FAKE!! in so many ways, particularly the unenthusiastic moaning/grunting (straightzie porn)
WTF!? (fnarked porn)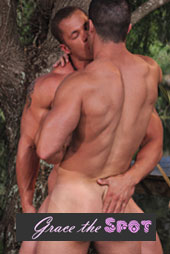 Ultimately, they can be summed up with a mere "meh" or "gross". Perhaps this is the very reason why lezzies seem to gravitate towards gay porn. Although we have to deal with close-ups of sweaty schlong'n'balls, at least the men are beautifully ripped and can't fake an orgasm (guaranteed genuine every time like the prize at the bottom of a Cracker Jack box). It could be that we're merely watching to pick up schlong-wielding techniques or getting the penis envy out of our system… or not.
Whatever the reason, lezzies like gay porn. Standing in the back of your local independent video store, you'll stare at the one shelf of lezzie porn and can't help but turn your head towards the rest of the room, where there are walls upon walls of hot gay porn. What are you in the mood for? Jock porn? Check. Leather porn? Check. Got a thing for uniforms? There's an entire section, further divided by firefighter, police and military. Impressive, eh?
Ahh gay porn. There's no need to keep it a secret any longer dear friends! LEZZIES LIKE GAY PORN!