The cast of K-Town, a/k/a the Asian Jersey Shore, which has nothing to do with this post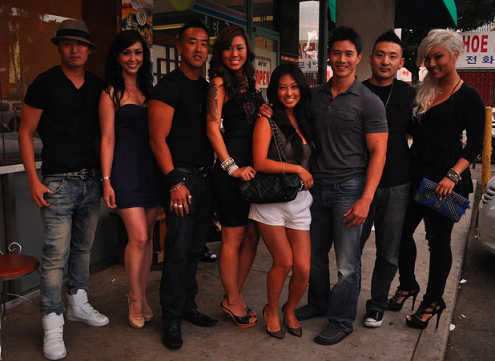 This is really in honor of Chu and Yip, as their conversations about their mothers are fantastic. Chu's recent posts lifted from her Facebook page were the last straw in my decision to become Asian. I have always dabbled in the Asian through sushi bars, living in Southern California, and using chopsticks. It just isn't enough anymore. I would like to be Asian, and I present my reasons why.
Reasons I want to be Asian.
1. Typing AZN is much cooler than CAUCAZN.
2. Margaret Cho. 'Nuff said.
3. I'd be able to get into expensive private schools and forced to go to Harvard, Yale, MIT, CalTech, or Stanford.
4. My mother would be neurotic in a humorous way.
5. White on rice would not apply to me.
6. I am genetically predisposed to know how to operate high end digital cameras.
7. I would be good at math and know secrets for doing laundry.
8. Eating ramen would mean I was showing reverence to my culture.
9. I would know where every good Asian restaurant was relevant to a 5 mile radius of my current position.
10. My carpet would be clean.
11. Other drivers would get out of my way, yell at me, and I could fake being oblivious to the situation.
12. I'd have a greater chance at being skinny while still eating carbs.
13. I would fit in the clothes at Banana Republic.
14. I'd be good at, or not afraid of, Karaoke
15. I'd be able to read the directions of the products I buy at Ranch 99 Market (instead of winging it)
16. I'd be expected to know a martial art.
17. I would be able to play the piano, the cello, or the violin.
18. I'd be good at WOW, Final Fantasy, and Dance Dance Revolution.
19. I'd be cool as shit.
20. People would read this list and I wouldn't have to worry about offending anyone.
I know I am not Asian now, but I can keep dreaming, thinking and imagining. After all, Bruce Lee said, "As you think, so shall you become." Kick AZZ!