Grace The Spot was at Club Skirts The Dinah last year, and it was unlike anything we had seen before. Most of the time we just stood back, mouth agape, wondering how we landed in the desert surrounded by over 10,000 lesbians, cradling our craniums in our hands to prevent our heads from exploding. If you missed our coverage last year, check it out here immediately. The Dinah 2011 is slated for March 30th – April 3rd, and it should be just as insane, if not more, than last year. We caught up with Mariah Hanson, founder and boss woman of Club Skirts The Dinah and asked her a few questions about this year's festivities.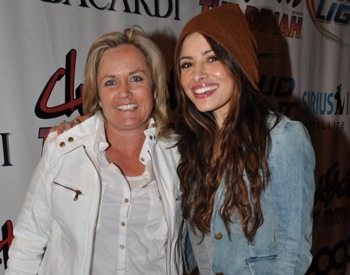 L to R: Mariah Hanson and Sarah Shahi
Grace: This is the 21st year of The Dinah, and you know when anyone turns 21, it can get a little crazy. In terms of the crazy meter with 1 being a picnic in the park and 10 being a regular everyday unremarkable orgy of 10,000 women in the desert, how do you think this year will rank?
Mariah Hanson: The Dinah is a ten to the tenth power this year!
2011 is indeed our 21st Anniversary and accordingly it marks a year of HUGE excitement. First of all we're back at The Riviera Spa and Resort, which has been hailed as Palm Springs' epic and contemporary deluxe Mecca for high-end world-class travelers. Also this year, as the economy is easing up we're expecting record numbers – our highest attendance EVER! Despite the fact that last year The Dinah fell on Easter/Passover weekend we still broke our attendance record, but we know that many women missed the event because of the holidays. Also, with the amazing exposure we gained having Showtime exclusively tape the entire Season 1 finale episode of The Real L Word at The Dinah, we hearing that a lot of women have discovered our event and will be heading out to the desert this year! And we're more than ready to deliver the party of a lifetime! Our entertainment program is out of this world – we have more than doubled the amount of performers and are bringing some of today's fastest-rising talents in music – we call them our "Freshman Class of Dinah 2011!"
Grace: Last year the main hotel was the Hilton. This year the main hotel is the Riviera. What are the improvements of this year's main hotel over last year's?
Mariah Hanson: Our main host hotel is The Riviera for good! We're thrilled to be back "home." The Riviera is swank, chic, fun, hip. The pool area provides so many opportunities for ancillary events with its side gardens and second pool. 400 deluxe rooms and 30,000 sq foot of convention space make it the largest Dinah Hotel in history and thank God, we need the space!
The Hilton Hotel is our second hotel host. It's also a top-notch hotel conveniently located in the heart of downtown Palm Springs. It's gorgeous! The resort sits on seven lushly landscaped acres with attention to detail that extends from the imported Italian Travertine flooring in the lobby, to the hallways and guestrooms of the hotel.
It's one of the top Palm Springs hotels where people can really get to enjoy the desert ambiance. Plus it recently underwent a multi-million dollar renovation with the grand opening of the Elements Spa. We only pick the best! We'll host The Dinah at the Hilton whenever Easter/ Passover falls on the same weekend, like last year.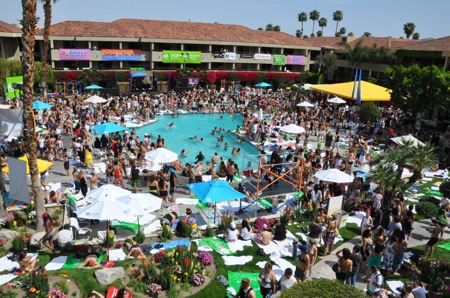 Pool party from The Dinah 2010
Grace: Which act were you the most excited to book so far this year? Who else are you trying to book?
Mariah Hanson: One of my favorite emerging artists is Natalia Kills. We haven't officially announced her yet but we will in a few days so you get a sneak preview. She's an exciting and talented new star with some great songs. Her album is due out in March so people won't get how big she will be until probably the end of summer but I am betting on her. My headliner is also an emerging artist and her single is spiking up the billboard charts so I am confident she'll be making a big splash in 2011.
We're keeping the Dinah tradition of showcasing a variety of emerging artists that people are going to say, "Who's that?" but I will remind them, "You all said that about Lady Gaga too."
Grace: The Real L Word will be filming at The Dinah. Which cast member do you think will be the one to watch this year?
Mariah Hanson: I do not know the entire cast of Season 2 yet but I always think Rose and Whitney are complex yet very human characters which always inspires interest. Both have enough of a wild side and curiosity to daringly explore new boundaries and push it to the edge, so I would say that they should be fun to watch this year. It's going to be interesting to see how they develop in season 2. They must surely have grown quite a bit after such an explosive invasion into their private lives not to mention the media and public attention – whether good or bad – they have received.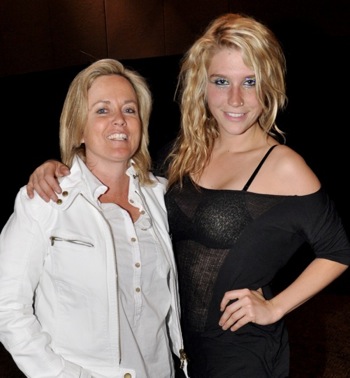 L to R: Mariah Hanson and Ke$ha
Grace: We saw Whitney of the Real L Word's love triangle drama at The Dinah last year. In 20 years of producing the Dinah, I am sure you have seen your share of lesbian drama. What was the most memorable incident that you have witnessed?
Mariah Hanson: I never kiss and tell! But I will say, our Dinah girls can get very, very naughty.
Grace: If you could get anyone in the world to walk the red carpet, who would you pick?
Mariah Hanson: Michelle Pfeiffer! No, Pink, for sure. I know she'll play The Dinah one day. Madonna would be a close second. A girl can dream, can't she?
Grace: Are there any surprises up your sleeve for this year?
Mariah Hanson: Of course, there are – plenty! But I can't tell you what exactly otherwise it wouldn't be a surprise anymore!
———-
The official website of Club Skirts The Dinah is www.TheDinah.com. We're going. Are you?