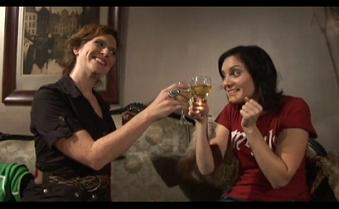 Seeking Simone is a web series that follows Simone Selkin's bumbling attempts to date her way through Toronto. The first episode of the second season recently premiered on AfterEllen.
Judging from the sheer insanity in her encounters with Toronto's finest ladies, I'm concerned about New York City's proximity to Toronto. I wonder if winds from the northwest could blow the cuckoo into the Big Apple like winds blew volcanic ash from Iceland all over Europe last year.
I interview the creators of the series Rose Rowe and Renee Olbert, who playes Simone, and address this concern, among other things.
Grace: The first episode of the second season was creepticious. Has anyone on the Seeking Simone team had incidents with stalkers?
Rose: "Creepticious" is such an excellent word! You know, I experienced a period of creepticious stalk-ation in my twenties. Her name was Amanda – but we'll call her "H" to protect her identity. We'd met a couple of times – she was a fan and boldly wooed me, I was flattered but politely declined – this was the extent of our consensual interaction.
I remember the most unsettling thing about it – aside from the years of intense letters delivered to me by unsuspecting mutual friends in the Fringe tent and the prolonged verbal abuse over the phone – was that "H" clearly felt that we were locked in this deep and intense Sturm und Drang relationship that I had NO KNOWLEDGE OF.
She would write these really passionate epistles and I would think "This is just the kind of letter I would love to receive from someone who actually knows me. But….YOU DON'T ACTUALLY KNOW ME! And that just makes this weird, lady!"
She popped up several times over the next decade – in person at shows, via email, in weird, overly familiar comments on my blog. But it all finally ended three years ago, when she left her swan song on a post about my shar pei:
"look for what ever it is. I think it needs to be said. I wasn't that into you to be over you. You played a bunch of head games and you never spoke to me directly, just some sneaky underhanded jabs at my character. You are with the one you love and I am so glad for that. You will never hear from me again. Have a great life."
As an interesting sidenote, our guest star for the first episode, Evalyn Parry, also had a stalker in her twenties. So she was really acting her truth when she played Bettina. She wrote a song about her experience called "Please Stop Following Me." You can get it on iTunes!
Longest. Answer. Ever.
Grace: Since the first episode was full of the cray… I'm gonna have to ask, on a scale of one to ten, with *ten* being the spawn of the love child of Sybil and Angelina Jolie's character in Girl, Interrupted crossed with the love child of Jenny Schecter and a feral cat and *one* being the (nonexistent) reasonable prudent lesbian, in general – are the women in Toronto closer to a one or a ten?
Renee: Sorry, I'm still carrying the 2… AND…. drum-roll please… the answers is… sorry, what was the question? Ah, yes- the crazy.
I'd have to say, bias aside, that women in Toronto are pretty cool. So, I'm gonna give all the single ladies in Toronto a solid 5 on the scale of crazy. * In my mathematical analysis of the situation I implemented the bell curve so, those uber cray-zi-zay girls are bringing our average down people! Ladies of Toronto, I call upon you to stop the crazy!
Grace: Will the situation with the casting director bite Simone in the ass at some point?
Rose: Well, I think it already has. Simone read for the lead in the Albatross Appeal – she ended up getting a role as a hooker. I guess that's what you get when you're great in the sack and shifty at the audition. Let that be a lesson, young lesbonic actors!
Grace: What about the situation with the creepticious stalkerish writer?
Rose: Fortunately for Simone, Betti was not an actual writer on CSIS: ForensicSWAT; so I think her biggest problem will be if Bettina's thinly veiled fan fiction ever gets picked up for a series and then Simone auditions for it and then Carmella turns out to be the casting director.
Grace: Will they have a threesome?
Rose: Yes, I think that is inevitable.
Grace: Will Simone actually have a good date in season 2?
Renee: Define what you mean by a "good date"!?! Yes, I would say that despite all her bumbling imperfections and poor choices, Simone has a good heart and she is absolutely due for her dating luck to change… Also, without a good date, how are the viewers gonna get what they want: which is more sex-ay time. *Gasp!* I've said too much.
Grace: Are the situations in Seeking Simone actually taken from the real life experiences of Renee Olbert? If so, have you gone to therapy? And if so, has it worked?
Renee: What ARE you? Some sort of voodoo shaman? It's like you've seen into the dark recesses of my soul. But to answer your questions: Yes, yes and my therapist says that making this show has been very cathartic.
Grace: Is there any hope for the all the single ladies?
Renee: Of course! But as seen from Rose's answer in question 1, I would never underestimate the importance of restraining orders and pepper spray. A gal can never be too careful.
Seeking Simone will be running on AfterEllen.com.