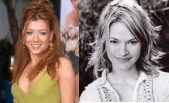 A thing about lesbians is that we often want famous women, especially attractive and/or talented ones, to be lesbians. This phenomenon is particularly true of 3 types of famous women, in descending order. Female musicians, actors who play lesbian characters, and actors who play strong female leads in movies that we insist have lesbian-subtext.
However, after the initial hoping that [insert hot famous person] is a lesbian, one of two things occurs, each having the same result.
One, we find out that even though she will always be Willow to us, Alyson Hannigan isn't a lesbian in real life and, therefore, we have zero chance with her.
Or two, we find out that yes, Leisha Hailey, Jodie Foster, and Portia de Rossi are lesbians, but unfortunately for us, they're hot, rich, and famous and therefore we still have zero chance with them. After all, like their heterosexual counterparts, these women probably want to form relationships with people as good-looking, famous, and rich as they themselves are.
Clearly, both roads lead to disappointment. But these minor details never stop us from regularly googling "Brandi Carlile, lesbian" anyway, just because we have to know. One desperate Our-Charter sums it up quite nicely in a post entitled Brandi Carlile:
"Do you know her music? Do you absolutely love her? Is she gay? (please say yes)"
But sister, you still don't have a chance with her.
Wait a minute….. yes?!
[Leaves to go wash hair]