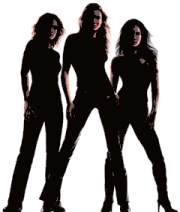 Pop quiz for my fellow lady lovers: What one thing do Clint Eastwood, John Wayne, and 99.9% of the lesbian population have in common? The burning desire to ride off into the sunset with the girl of their dreams? Possibly. Unless, of course, you have an enormous, irrational fear of horses (attempting to make a miniature pony gallop is never a good idea…trust me). Or how about the general love of holsters, cowboy hats, and chaps? Good guess. But unless it's Halloween or you're living out the lesbian remake of Brokeback Mountain, probably not the answer.
Give up? Believe it or not, the common characteristic is pretty simple. It's the swagger.
Lesbians love to swagger. Whether you're hooked on heels or a Converse-craving girl, this "lead with the hips" style of walking just seems to come as naturally as softball, hand tucks, and creating unnecessary drama.
It becomes even more prominent when lesbians happen to be walking together. In fact, throw in a few black ties and a couple pairs of Ray Bans and most packs of lesbians could double for as the cast of Reservoir Dogs.
Why the overwhelming urge to constantly strut our stuff? Although there are a slew of possible theories… natural imbalance due to carrying everything in one's pockets, old knee injuries requiring a robo-brace, too-tight uniforms… Really, the main cause of swagger can actually be pinpointed to one very specific character trait: Confidence.
Yup. It all boils down to confidence. Ask any lesbian and she'll tell you that confidence is hands down the sexiest trait a woman can possess… Well, maybe not the sole sexiest trait but it's definitely right up there with a great smile, killer sense of humor, and the ability to make a mouth watering baked ziti… And swaggering is simply the physical manifestation of this.
So, even if you are experiencing one of those confidence lacking sort of days, pick yourself up and try going for a walk. Because a little swaggering will totally make your day.