[Warning! L Word spoilers ahead!]
Yoo hoo! 'Tis the last day of voting in The Weblog Awards.
Alex Blaze from The Bilerico Project, which is now in second place in the LGBT category in the Weblog Awards, told me that in order to win, it is less important to write quality posts and more important to conjure up "some pretty crazy ideas to get people to click [the voting] link." So I ventured over to The Bilerico Project to see what "crazy ideas" he came up with. Their latest vote solicitation contains half naked pictures of hot dudes and Rachel Maddow. (WAIT WAIT WAIT! Don't leave! I meant the hot dudes are half naked. Rachel Maddow is actually clothed. Sorry to disappoint.) I also ventured over to Joe.My.God., who is also doing well in the LGBT category, and his latest request for votes contains a photo of a shirtless beefcake with an unfortunate haircut, although I am sure most of his readers will forgive the haircut.
Crazy ideas? CRAZY IDEAS?! Posting pictures of attractive people is considered clever these days? That's all they could come up with? Amateurs!
Listen, how about this…
IF YOU VOTE FOR GRACE THE SPOT FOR BEST NEW BLOG OF 2008, I WILL PERSONALLY BRING CARMEN BACK TO THE L WORD.
You heard me. Click on the picture of Sarah Shahi below and
vote for us for Best New Blog
, and I
promise
that the uber sexy Carmen (played by Sarah Shahi) will make an appearance in the last episode of Season 6 of
The L Word
. That's right. A vote for Grace the Spot is a vote for the return of Carmen de la Pica Morales. "But wait," you say. "She might come back even if I don't vote." Please. Do you really want to tempt fate? How about this. If all of you click on that picture and vote for us, I guarantee that there will be a 100% chance that Carmen will return in the final season of
The L Word
.
Do it. Do it now (or at least before 5pm Eastern Time when the polls close), or you may be filled with regret for the rest of your life.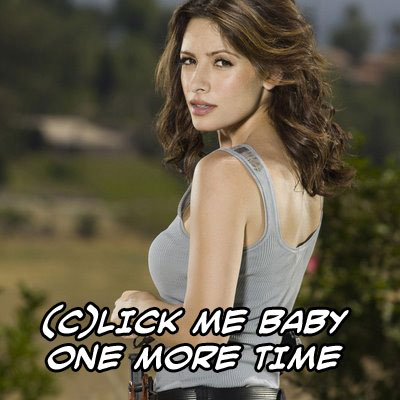 As an added bonus, I will make sure that Jenny dies.
The new season starts this Sunday. Are you ready?