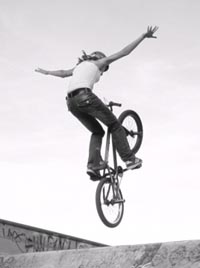 True story: When I was five, I finally outgrew my Pretty Pretty Princess bike – the Easter Bunny's choosing, not mine—and it was time for an upgrade. So my mom and I headed on down to the local Toys R Us where I proceed to bypass the streamers and baskets and cirque-de-soleiled my little body around the baddest BMX bike I could find. Now, I'd like to think I was very level-headed and diplomatic with my arguments on why I should be allowed to have a bike built for a 12-year-old boy but after reviewing some of my home videos know that that's the furthest thing from the truth.
Needless to say, I left the store that day with the bike of my dreams and my mom left the store with the nagging suspicion that there were Ani Difranco concerts and numerous softball games in her pig-tail clad daughter's future.
Let's face it. Most of us were very gay little kids. While we may have owned a Barbie or two, we probably didn't play with her the way it was intended. Instead of dressing her in the latest accessories and putting her in her cruiser for a night on the town with Skipper and the girls, most of us opted to give her a buzz cut and make her the makeshift star in our own pre-Demi version of G.I. Jane. When we would rather play video games and smash Transformers than brush our My Little Pony's mane, we should have known something was up. But, to our eight and 10 year old selves, this was all normal child's play.
Alas today, as we are forced to look at tagged grade school photos of ourselves on friends' Facebook pages, our adult selves realize what we should have known all along. But, as Grace Underfire astutely reminded us, everyone knows we were a lesbian long before we were ready to admit it.
Here are some five would-have-been-really-helpful signs that we were Dykes to Be:
Legos and Teenage Mutant Ninja Turtles were on the top of your x-mas list.
At least one of your Halloween costumes included a sword and/ or a cape.
You attended some sort of sleep-away camp (bonus points if it was a sports camp).
You had an unhealthy obsession with DJ Tanner, Punky Brewster, and Blossom.
Umbros, over-sized t-shirts, and overalls were your wardrobe staples.
Whether you subscribe to the nature or nurture school of thought, the signs are always there. It just comes down to if you choose to acknowledge them or not… and as in the case of my mom, she fully blames the BMX bike.