You know how they say you can play Pink Floyd's "Dark Side of the Moon" in synch with the movie, "The Wizard of Oz" which leads to some crazy, trippy experience? Well, I've pulled lyrics from five Kelly Clarkson songs and paired them with five memorable relationships from "The L Word." Although far less trippy, for anyone still questioning Clarkson's sexuality (and aren't we all?) these coincidences should give you a good laugh. Stick around 'til the end for a bonus blast from the past, in more ways than one..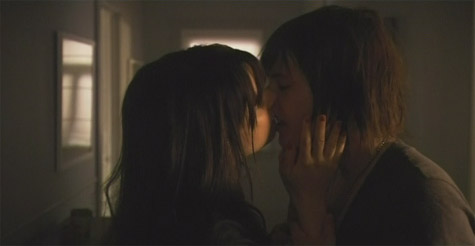 1. "My Life Would Suck Without You" (All I Ever Wanted)
Jenny to Shane (season 6)
"Guess this means you're sorry// You're standing at my door// Guess this means you take back// All you said before// Like how much you wanted// Anyone but me// Said you'd never come back// But here you are again// Cause we belong together now// Forever united here somehow// You got a piece of me// And honestly// My life would suck without you//Maybe I was stupid for telling you goodbye//maybe I was wrong for trying to pick a fight// I know that I got issues// but you're pretty messed up too// either way I found out I'm nothing without you//being with you is so dysfunctional//I really shouldn't miss you but I can't let you go//"
So in the first couple lines, she references the season six opener when Shane's locked out of Jenny's house. Then she continues to describe that it's no secret that Jenny's got some issues, and Shane is pretty messed up too. However, with that next line, I beg to differ, Kelly. They probably could have been something without each other, like less messed up.. maybe. Alright so they might not have been the perfect couple, but this song was so perfect for them, it's almost scary.
2. "Never Again" (My December)
Bette to Tina (season 2)
"I hope when you're in bed with her// You think of me// I would never wish bad things// But I don't wish you well// Does it hurt// To know I'll never be there// Bet it sucks// To see my face everywhere// It was you// Who chose to end it like you did// I was the last to know// You knew// Exactly what you were doing// Don't say// You simply lost your way// They may believe you// But I never will// Never again//"
Ok, this was an easy one to peg. Kelly was ridin' for her home girl on this one. She was definitely on Team Tina. When I hear this song, all I can think is, "Did you F*CK all NIGHT before you told her I was the love of your life??!" Epic table flip. End scene. If only this song would have started playing as Tina stormed out.
3. "Already Gone" (All I Ever Wanted)
Shane to Carmen (season 3)
"Remember all the things we wanted// Now all our memories they're haunted// We were always meant to say goodbye// Even with our fists held high// It never would've worked out right// We were never meant for do or die// I didn't want us to burn out// I didn't come here to hurt you// Now I can't stop// I want you to know// That it doesn't matter// Where we take this road// Someone's gotta go// And I want you to know// You couldn't have loved me better// But I want you to move on// So I'm already gone// Looking at you makes it harder// But I know that you'll find another// Who doesn't always make you wanna cry// Started with a perfect kiss then// We could feel the poison set in// Perfect couldn't keep this love alive// You know that I loved you so// I love enough to let you go//"
All right — don't get all sentimental on me, Clarkson. I know you saw Shane leave Carmen at the altar and immediately took pen to paper to come up with this one. R.I.P. Sharmen, how we miss thee.
4. "Long Shot" (All I Ever Wanted)
Jenny to Nikki (season 5)
"So now I take a chance on// This thing we may have started// Intentional or not// I don't think we saw it coming// It's all adding up to something// My heart beat beats me senselessly// Why's everything gotta be so intense with me// I'm trying to handle all this unpredictability// And our probability// It's a long shot// But I say why not// It's a long shot// Just to beat these odds// The chance is we won't make it// But I know if I don't take it// There's no chance// Cause you're the best I've got//"
Now that I think about it, any couple that Jenny was a part of was never really a fan favorite. (Correct me if I'm wrong) But I will admit that I did kind of like Jenny and Nikki together and apparently so did Kelly. She just wanted to give those two crazy kids a chance. Just like me. Too bad it ended up being a "sho-mance" or whatever Ilene Chaiken was trying to add to her list of terms, right under "nipple confidence" and "third-wheel crush."
5. "I Want You" (All I Ever Wanted)
Alice to Tasha (season 4)
"Hot temper with the shortest fuse// You're such a mess with an attitude// You're working hard but you're paying more// You never talk cause you don't have to// I want you// I want you// You never settle never take too much// You count on me just like I count on you// Kiss me like when I first saw you// Figured out couldn't be without you// I want you// I want you// No one else will do// No one makes me smile// No one gets me how// No one else is you// I want you// I want you// You and me// Walking together// Screwing up// For worse or for better// I want you//"
Alice and Tasha became the antidote to every other couple on The L Word. (Minus the juggernaut that is TiBette) They were one of the best things to happen after the devastation of season 3 and continued to be one of the only things holding the show together at the end. Alice was head over heels over Tasha and apparently we weren't the only ones that noticed.
Bonus: "Since U Been Gone" (Breakaway)
Jenny to Marina (season 1)
I can't even pick a specific section of this song to highlight. I mean, "Here's the thing//We started out friends// It was cool// But it was all pretend//?" From the get-go this thing is L Word gold. The whole thing is basically the story of Jenny and Marina's relationship, so instead I provide you with the video.
Come on. You know Jenny totally would have done that to Marina's house given the chance. She really wanted to just rip open that huge garbage bag and throw the contents everywhere. (What did she really have in there anyway? She must have had A LOT of ripped tights and jean skirts) I mean, she already threw that bottle of wine at Marina's window, that was just the beginning..