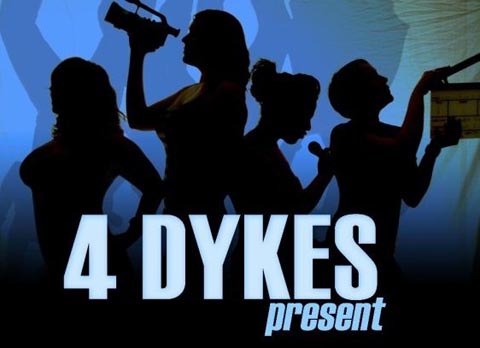 Last October, I went to the New York Queer Experimental Film Festival, where I saw the film LEZBROS, a quirky and often hilarious short about dudes who like to hang out with lesbians. Whereas many of the films in the festival were inaccessible, odd or just plain depressing, LEZBROS stood out with its accessibility, perception, humor and universal appeal. LEZBROS has been picked up by The LOGO Channel and will premiere on LOGO this July.
I caught up with Dara Sklar and Brynn Gelbard, who are part of the collective of filmmakers who created LEZBROS, to talk about their latest project JEW LO, which premiered this weekend in San Francisco. Yes, you heard me: JEW LO. Here is the trailer:
Grace:
Tell me a little about "4 Dykes Presents." How do you know each other, and how did you get started making films?
Dara: "4 Dykes Presents" is a collaboration of four queer women filmmakers – Brynn Gelbard, Melinda Bagatelos, Lisa Donohoe and Dara Sklar. We were friends first, each of us working on films or other artistic endeavors individually, but then one day realized combining our strengths could produce thoughtful, funny and visually captivating work. Our first project was LEZBROS about guys who like to hang out with lesbians and has been very well received in festivals around the world and will be making its television premiere on LOGO this summer. Our second short film which has been highly anticipated – JEW LO – unveiled this weekend in San Francisco's Castro Theater to a crowd of screaming fans.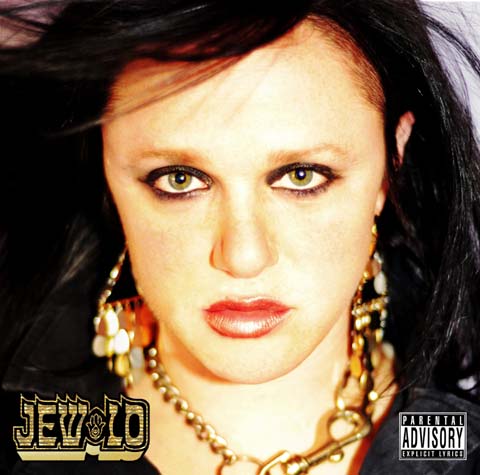 Grace: What is the general premise of JEW LO?
Brynn: Jew Lo tells the story of a Jewish American Princess from Long Island, NY, who dashed out of the closet and emerged a campy sing-song superstar in SF. Along the way, she acquires a #1 fan, Devorah. Together, they never cease to get the party started.
Grace: What – or who – inspired the character of Jew Lo?
Brynn: The idea for Jew Lo came about accidentally, as most creative inspiration does. I was out of sorts but required to attend a friend's birthday party one night. I had no desire to put much effort into getting dressed, though the birthday girl was a big fan of my style and propensity to go out as different characters. Ultimately, I tied a scarf around my head and wore sunglasses, big hoops, and lipstick, which I initially thought of as a cop out. When I got to the door, someone, I can't remember if it was the birthday girl or not, asked who I was that night. Out came "Jew Lo". By the end of the night, I had the first few lyrics of the Jew Lo song penned on a cocktail napkin.
Grace: So the Jew Lo is from Long Island. After moving to the West-SIIIDE is she still just Jew Lo from the block? Is she still keepin' it real, east coast style?
Brynn: Once east coast, always east coast! Once a New York Jew, always a New York
Jew!
Grace: What block is Jew Lo from? I'm guessing Massapequa, Long Island (otherwise known as Matzoh Pizza due to its Jewish and Italian population), or is it another preferred 'hood of the tribe?
Brynn: Actually, Jew Lo is from Great Neck, so in the song, it's "Great Great Neck" instead of "South South Bronx". Great Neck is notorious for wealth, doctors, lawyers, financiers, manicured lawns, fancy homes, kids getting beamers for their 17th birthdays. But it's also practically within earshot of Manhattan. As kids, we would go into the city to attend teen dance parties and sometimes sneak off to Limelight. Considering Jew Lo to be somewhat of a caricature of me, I would say we are both products of these unscrupulous adventures and the drag queens we followed to find out where the real party was.
Grace: Are you single?
Brynn: I am not single. My girlfriend of 7 1/2 years and I co-wrote the "Jew Lo" lyrics and she did an incredible job on the production design for the video. We had actually talked about getting married in 2009 but as with so many, we were dealt a huge blow by Proposition 8. Another thing I should mention is that my girlfriend is Irish. While we are very lucky that she has a green card, we both want to see immigration rights for same sex couples and we will be marching with Out4Immigration in Sunday's pride march.
Grace: What about Jew Lo? Is she single?
Brynn: As it says on her Facebook page, it's complicated.
Grace: After this film, will Jew Lo retire — or will she "retire" like Jay-Z and Eminem and make a comeback?
Brynn: The adventures of Jew Lo and Devorah shall continue…
Grace: Are there any other film projects in the works that we should be on the lookout for?
Brynn: I'd have to say that up until last year with LezBros, my number one ambition was to be a writer. Being on camera was never the plan. Tinkering with music was never the plan. Making films as opposed to just writing them has been hugely empowering, and a lot has changed. Seeing people find the message alongside the comedy in my work only inspires me to keep going. I think comedy has a unique power to melt hearts and change minds. I saw that with LEZBROS and the dialogue it inspired amongst straight audiences. So yes, there are more films in the works. Expect them to be smart, beautiful, and hilarious!
Grace: So, what is the ultimate goal for you? Total world domination?
Brynn: I want to be a fusion of Bette Midler and Tina Fey when I grow up!