Welcome to the page where we bloviate endlessly about our completely unprestigious blog awards. Yes, we know that "completely unprestigious blog awards" is redundant on many levels, but humor us.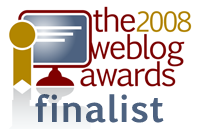 Grace The Spot was a finalist in the 2008 Weblog Awards for Best New Blog of 2008. Close to a million votes were cast in the entire competition, mostly by disgruntled Hillary Clinton supporters called PUMAs who couldn't get over the fact that Obama won – and by disgruntled Obama voters who don't like to breathe the same air as PUMAs. I think some Republicans may have voted, but no one knows for sure. By the time the Weblog Awards rolled around, fighting with Republicans had become a waste of energy. Like a box turtle that had managed to roll onto its back due to its own abject stupidity, the Republicans had basically become roadkill. Since Republicans were lying on the floor like dead bugs, Democrats decided that conducting an online civil war among themselves was the next logical step. Wonkette, whose readers tend to fall in the anti-PUMA camp, decided that a PUMA blog could not win Best New Blog, so they sent their hordes to back a randomly selected blog, and we came in third place. They were nice enough to notice that we were Lebanese, however.
"A popular Lebanese blog" – Wonkette (Tabbouleh power!)

"A very witty blog that was an unfortunate casualty of the Wonkette juggernaut." – Jon Swift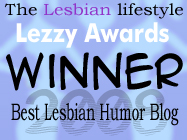 However, we managed to win Best Humor Blog in the 2008 Lesbian Blog Awards, proving once again that lesbians are humorless and have bad taste. We were also finalists in the Entertainment category and for Blog of the Year, but all of the love went to the Dorothy Surrenders, probably because lesbians find pictures of women in tank tops much more entertaining. We aren't certain though. We are still subjecting ourselves to rigorous clinical trials and will publish our conclusions once we have looked at enough pictures of women in tank tops. It may take a while. Scientific research is a very onerous and time consuming process. The wheels of science grind exceedingly slowly, but they eventually lead to truth.
"Grace The Spot is on like Donkey Kong." – Crooks and Liars
About Stuff Lesbians Like:
"Looking at Grace the Spot's Stuff Lesbians Like, it becomes clear that lesbians are about way more than acoustic music and flannel." – The Bilerico Project
Finally, we want more press like this and are disappointed that we haven't received it:
"The essentialist thinking coming from your blog isn't so surprising, but disappointing, indeed." – someone named "Marv"

"…uneducated thinking." – someone named "Shannon"
If we aren't getting this type of press on a regular basis, we aren't doing our job. Please find the nearest enlightened lesbian you know, and trick her into reading our blog. We are planning on creating another completely unprestigious award called the "Most Enlightened Lesbian of the Year Award," and we need candidates. We would nominate the queen herself, Judith Butler, but we would prefer if our nominees would get their enlightened point across in 140 characters or less. God, she would suck at Twitter.